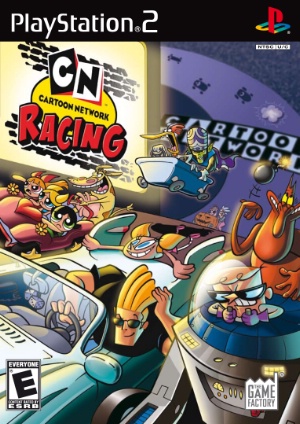 Cartoon Network is a cable television network created by Turner Broadcasting which primarily shows animated programming. The original American channel began broadcasting on October 1, 1992 with the Bugs Bunny short Rhapsody Rabbit being its first-ever aired program.[citation needed] Cartoon Network originally served as a 24-hour outlet for classic animation properties from the Turner Broadcasting libraries and is mainly youth-oriented, but shares channel space with a late-night adult-oriented channel programming block called Adult Swim. Since 2003 however, Cartoon Network began airing a small amount of live-action programming, mostly movies.

By the end of the 1980s, Ted Turner's cable-TV conglomerate had acquired the MGM film library (which included the older catalog of pre-August 1948[1] color Warner Bros. cartoons), and its cable channel Turner Network Television had gained an audience with its film library. In 1990, it purchased animation studio Hanna-Barbera Productions and acquired its large library as well as most of the Ruby-Spears library. By October 1, 1992, Cartoon Network was created as an outlet for Turner's considerable library of animation, and the initial programming on the channel consisted exclusively of reruns of classic Warner Bros. (like Looney Tunes and Merrie Melodies), MGM (like Tom and Jerry and Droopy Dog), and Hanna-Barbera cartoons (like The Jetsons and The Flintstones), with many Hanna-Barbera TV cartoons like Wally Gator used as time fillers. Most of the short cartoons were aired in half-hour or hour-long packages, usually separated by character or studio—Down With Droopy D aired old Droopy Dog shorts, The Tom and Jerry Show presented the classic cat-and-mouse team, and Bugs and Daffy Tonight provided classic Looney Tunes shorts. The majority of the classic animation that was shown on Cartoon Network no longer airs, with the exception of Tom and Jerry, A Pup Named Scooby-Doo, Scooby-Doo, Where Are You!.
Screencap from a 1995 bumper.

Hanna-Barbera started production on The What-A-Cartoon! Show (also known as World-Premiere Toons and "What-A-Cartoon"), a series of creator-driven short cartoons that premiered on Cartoon Network in 1995. It was the network's third original series (the second was Space Ghost Coast to Coast and the first was The Moxy Show). The project was spearheaded by several Cartoon Network executives, plus The Ren and Stimpy Show creator John Kricfalusi (who was an advisor to the network at the time) and Fred Seibert (who was formerly one of the driving forces behind the Nicktoons, and would go on to produce the similar animation anthology series Oh, Yeah! Cartoons). The chief purpose of The What A Cartoon Show was to help Cartoon Network expand its library of exclusive programming and it introduced a number of new cartoon ideas. Eight of them were spun off into their own series runs. These eight series, Dexter's Laboratory, Johnny Bravo, Cow and Chicken, I Am Weasel, The Powerpuff Girls, Ed, Edd n Eddy, Courage the Cowardly Dog, and Mike, Lu & Og became the origins of the network's original cartoons, collectively known as Cartoon Cartoons.