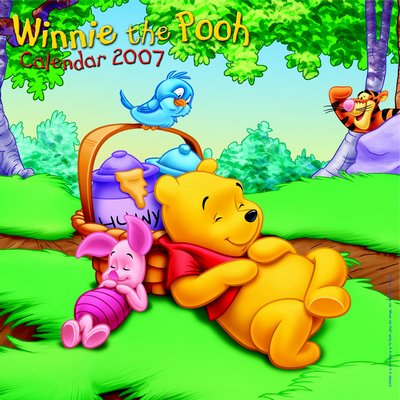 Winnie-the-Pooh, commonly shortened to Pooh Bear or simply Pooh, and once referred to as Edward Bear, is a fictional bear created by A. A. Milne. The first collection of stories about the character was the book Winnie-the-Pooh (1926), and this was followed by The House at Pooh Corner (1928). Milne also included a poem about the bear in the children's verse book When We Were Very Young (1924) and many more in Now We Are Six (1927). All four volumes were illustrated by E. H. Shepard.

The hyphens in the character's name were later dropped when The Walt Disney Company adapted the Pooh stories into a series of Winnie the Pooh featurettes that became one of the company's most successful franchises worldwide: see Winnie the Pooh (Disney).

The Pooh stories have been translated into many languages, notably including Alexander Lenard's Latin translation, Winnie ille Pu, which was first published in 1958, and, in 1960, became the only Latin book ever to have been featured on the New York Times Best Seller List.

On 19 February 2007 Disney lost a court case in Los Angeles which ruled their "misguided claims" to dispute the licensing agreements with Slesinger, Inc. were unjustified, but a federal ruling of 28 September 2009, again from Judge Florence-Marie Cooper, determined that the Slesinger family had granted all trademark and copyright rights to Disney, although Disney must pay royalties for all future use of the characters. Both parties have expressed satisfaction with the outcome.

Winnie-the-Pooh (original version from 1926)
Author A. A. Milne
Illustrator E. H. Shepard
Country United Kingdom
Language English
Publisher Methuen & Co. Ltd. (London)
Publication date 1926-10-14